Antipasti
Tuscan Tray
A mosaic of meats and cheeses. Prosciutto di Parma, Tuscan salami, and soppressata salami; paired with brie en croûte, fresh mozzarella, herb-encrusted goat cheese, and mascarpone & gorgonzola torta; complemented with Mediterranean olives, grapes, and crunchy crostini bread.
Mussels
One pound shell-on mussels steamed in a white wine and garden-fresh basil pesto sauce 15.12
Caprese Δ
Slices of fresh mozzarella, and tomato with basil drizzled with olive oil and sprinkled with a touch of oregano 9.12
Goat Cheese Torta Δ
Whipped mascarpone and goat cheese layered with garden-fresh basil pesto and sundried tomatoes 9.12
Parmesan Artichoke Dip Δ
With cheddar cheese, served warm with crunchy crostini bread for dipping 9.12
Bruschetta Δ
Crunchy French baguette topped with our garden-fresh basil pesto, chopped Roma tomatoes,
thinly sliced eggplant and Asiago cheese, oven-baked 12.12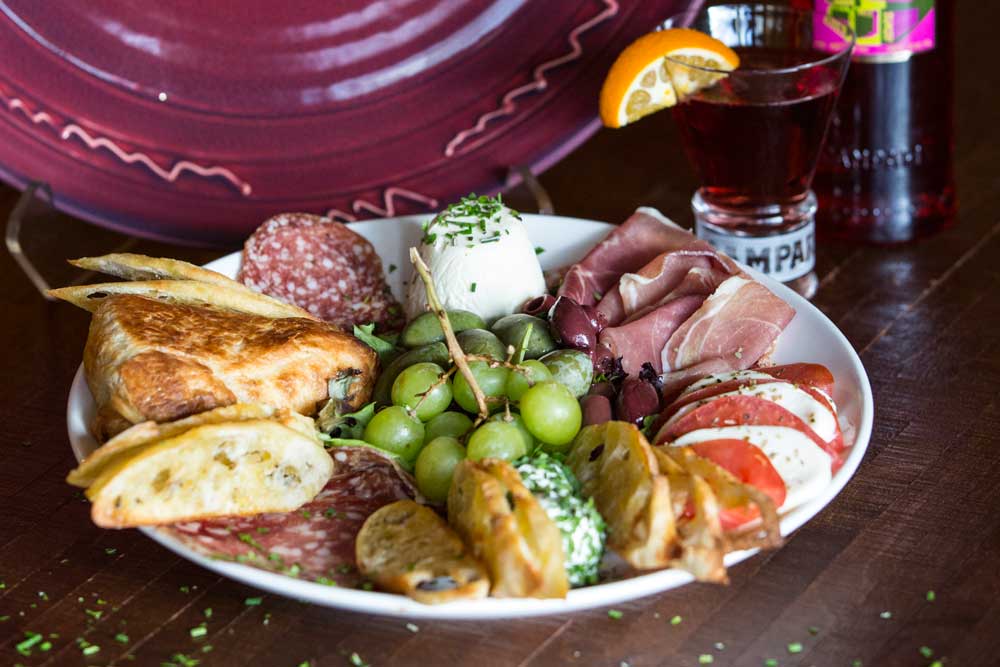 Soups & Salads
Tuscan Tomato Soup Δ or Soup of the Day Cup 4.12; Bowl 6.12
Swiss Onion Ale Cup 6.12; Bowl 8.12
Dodici Salad Δ
Fresh field greens tossed in honey-lime vinaigrette
with dried cranberries, walnuts and feta cheese crumbles 9.12
House Salad Δ
Fresh field greens with carrots, cucumbers and house-made croutons 6.12
Dressings – Ranch, Creamy Gorgonzola, Balsamic Vinaigrette, Honey Mustard,
Raspberry Vinaigrette, Oil and Vinegar, Thousand Island.
Add pan-seared chicken breast for 6.12
Caesar Salad
Crisp romaine lettuce tossed in our house-made Caesar dressing with parmesan cheese 8.12
Salmon Salad
Grilled fresh salmon filet served over a bed of field greens, with carrots, tomatoes
and toasted almonds with your choice of dressing 20.12
Dressings: Ranch, Balsamic Vinaigrette, Gorgonzola, Honey Mustard, Raspberry Vinaigrette, Olive Oil & Vinegar, Jalapeño Vinaigrette, Thousand Island.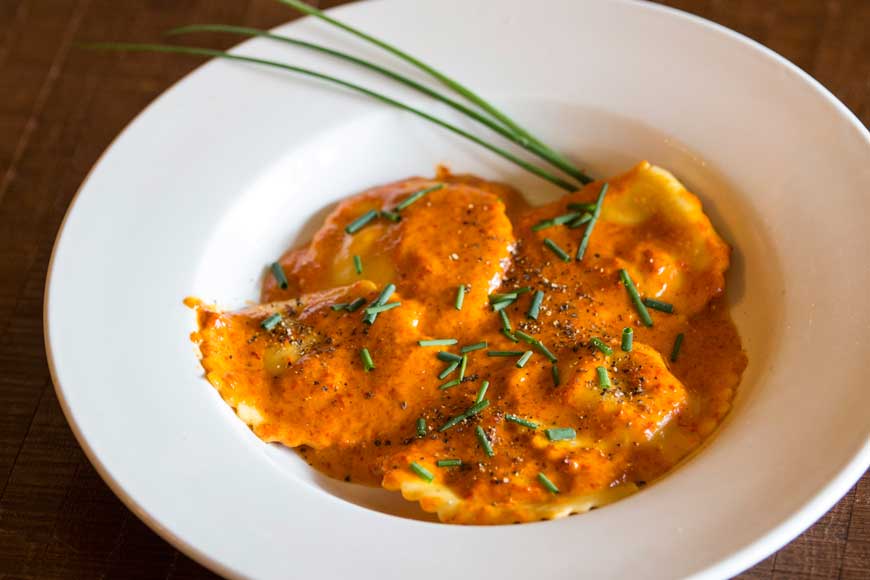 Pasta
Spinach Ravioli Δ
Classic spinach & ricotta stuffed ravioli with Rossini sauce – sugo di carne coupled
with cream & red pepper flakes; OR in Rosé; OR with Caprese – fresh mozzarella, tomatoes & basil 17.12
Lobster Ravioli
Lobster stuffed ravioli in a roasted red pepper, chipotle and smoked gouda cream sauce 18.12
Sugo di Carne
Select ground beef and pork in a clove and nutmeg spiced tomato sauce with tagliatelle 16.12
Chicken Limone Δ
Lemon cream sauce with organic baby spinach over penne
with chicken deglazed in white wine reduction 18.12
Spaghetti & Meatballs
Hearty house-made Italian meatballs served over spaghetti and our house-made
sugo di pomodoro, topped with mozzarella cheese and oven-baked 19.12
Tortellini Δ
Stuffed tortellini in a pesto-cream sauce with fresh-diced tomatoes OR in a parmesan cream sauce
with peas and prosciutto. Choose from cheese, beef or a little of both 17.12
Shrimp Asiago
Pan-seared shrimp in a fresh tomato and asiago cream sauce over tagliatelle 18.12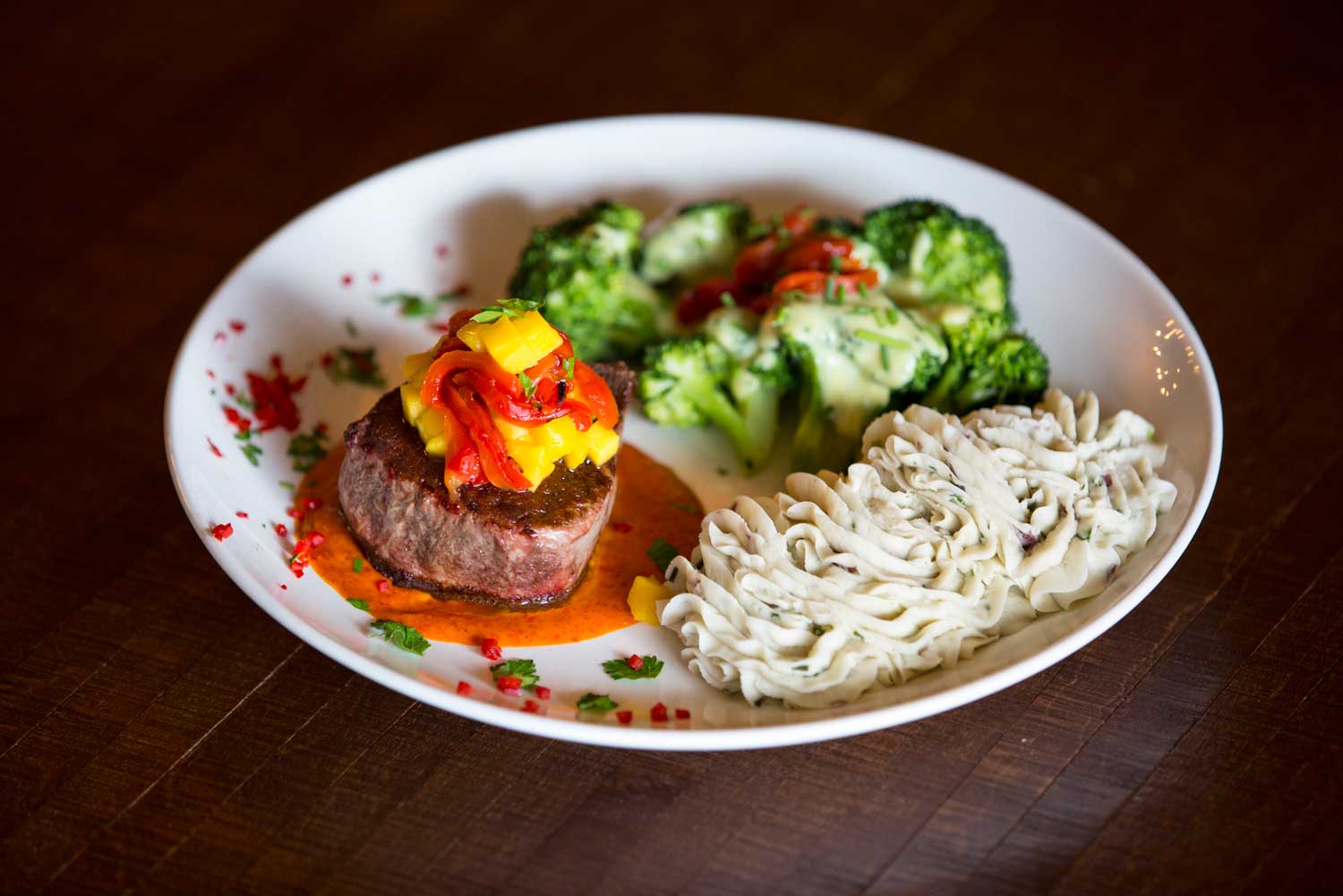 Entrées
Served with vegetables of the day and your choice of whipped potatoes
or gnocchi – Italian potato-pasta dumpling
Raspberry Salmon
Fresh salmon filet pan-roasted and topped with julienne cut potatoes oven-baked
and complemented by our house-made raspberry champagne coulis 23.12
Chicken Roulade
"100 things you have to eat before you die" Des Moines Register 2006
Lightly breaded breast of chicken stuffed with spinach and smoked Gouda,
oven-baked and topped with a honey-Dijon butter 24.12 (Please allow for aprox 20 minutes baking time)
Pork Chop
Smoked bone-in Iowa pork chop grilled and topped with balsamic reduction,
roasted cherry tomatoes & feta cheese 21.12
Duck
Roasted half duckling served with an orange-rosemary glaze 28.12
Ribeye Steak
10oz ribeye steak served grilled with olive oil and cracked salt & pepper 26.12
Filet Mignon
8oz filet served grilled with special toppings. Please ask us for tonight's preparation 32.12
Eggplant Parmesan Δ
Two slices of lightly breaded eggplant pan fried, baked and topped with mozzarella
and our house-made sugo di pomodoro. As entrée OR over spaghetti 18.12
Chicken Parmesan
Panko crumbs breaded breast of chicken pan-fried, baked and topped with mozzarella
and our house-made sugo di pomodoro. As entrée OR over spaghetti 18.12
Δ Marked items are or can be made vegetarian • Please notify your server if you have any food allergies